foxGUIb
... is an interactive gui builder and codegenerator for FXRuby. It is a convenient tool that makes it easy to quickly build complex and good looking graphical user interfaces for Ruby.
screen shot: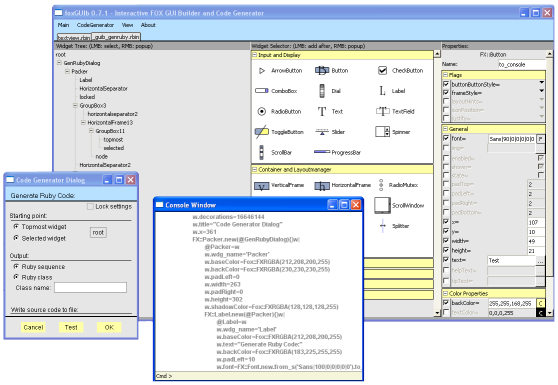 installation v0.7:




dowload the latest archive and install libGUIb before you first run foxGUIb. see

installation.txt

for details.




usage:
go to the foxGUIb directory and run foxGUIb either by:

double-clicking on foxGUIb-win32.rbw (on windows)

typing

ruby foxGUIb.rb

(on *nix-like systems)

to release files generated by foxGUIb you might want to distribute them together with

libGUIb14.rb

, which is also available for download as single file (

libGUIb14.rb-redistributable*.zip

)

.
mailing list: foxGUIb users may use the fxruby-users mailing list (low traffic). you may also write directly to me: meinrad.recheis at gmail.com

bugs: please fix and send in a patch :) ... or just mail me.

copyright:

foxGUIb and libGUIb are copyright © 2004-2006 by Meinrad Recheis aka Henon (meinrad dot recheis at gmail dot com)

license:


THIS PACKAGE IS PROVIDED "AS IS" AND WITHOUT ANY EXPRESS OR IMPLIED WARRANTIES,

INCLUDING, WITHOUT LIMITATION, THE IMPLIED WARRANTIES OF MERCHANTIBILITY AND

FITNESS FOR A PARTICULAR PURPOSE.
---
some people i'd like to pay my respect to:

Yukihiro Matsumoto
, the inventor of
RUBY
(the best scripting language ever!)
Jeroen van der Zijp,
the inventor of the GUI toolkit
FOX
Lyle Johnson
, the creator and maintainer of
FXRuby
Tom Copeland
, and the
rubyforge.org
team. they are hosting this project.
Mike Parr
, the author of the
guide
.
Copyright © 2006 Meinrad Recheis